1.High quality industrial power supply, ensure stable and reliable power supply
2.Intelligent fan integrated temperature control, Electric heating, to meet – 30 – +50 degrees of outdoor environment, the panel will not blacken, the whole machine works normally;
3.High quality centrifugal/axial fan, matching fan speed regulating board, automatic temperature sensing, automatic regulation of fan speed, energy saving and power saving, prolonging fan service life;
4.High Efficiency Multilayer Filtration System, isolating harmful dust into the machine, the whole machine protection level reached IP55;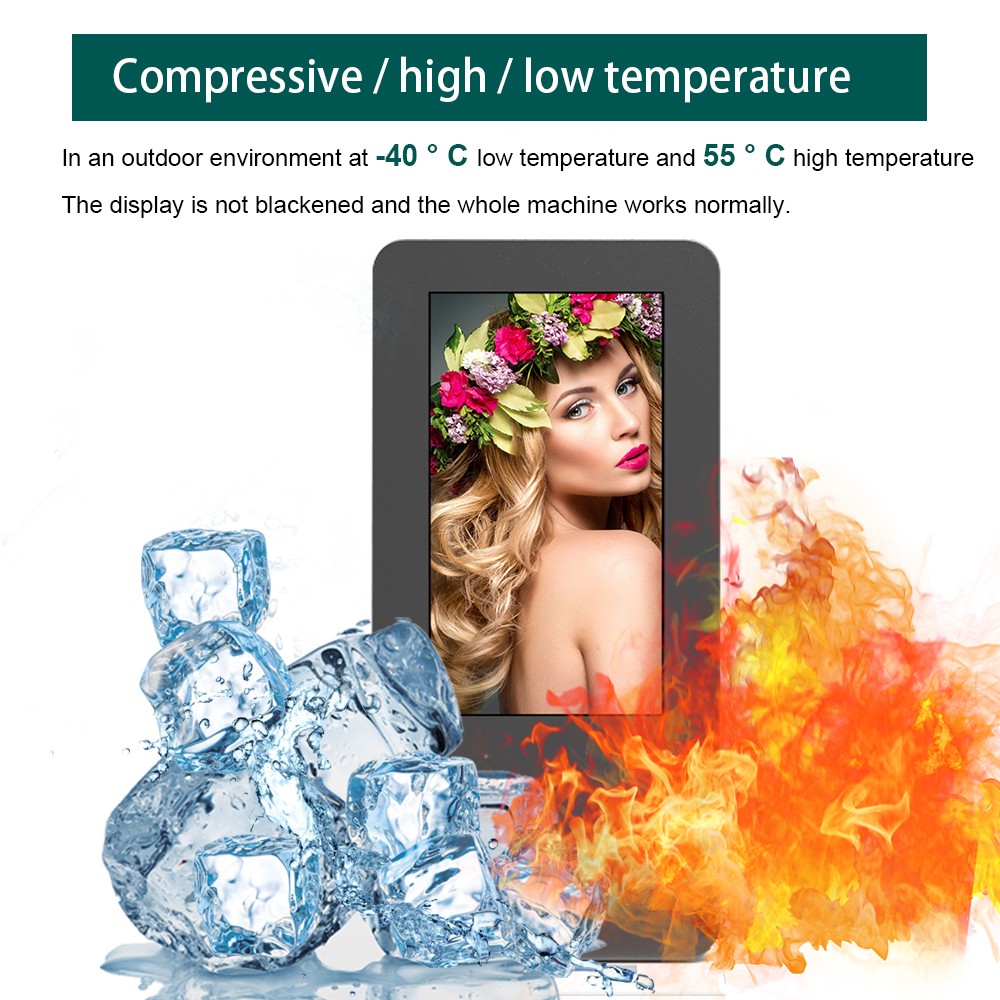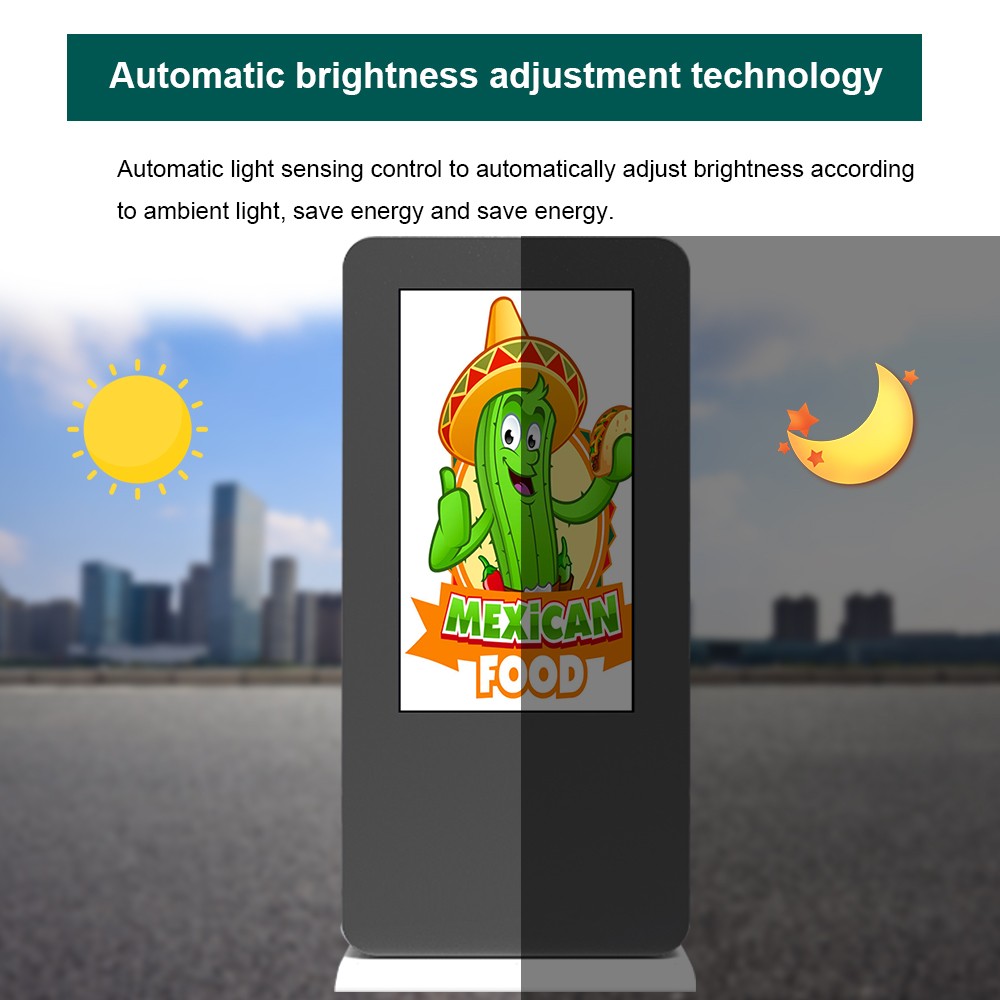 1). Main properties
| | |
| --- | --- |
| Screen Type | LCD |
| Screen Size | 75 inch |
| Resolution | 1920*1080 |
| Display Ratio | 16:9 |
| Application | Outdoor |
| Protection Level | IP55 Waterproof |
| Installation | Floor standing |
| Brightness | 2000cd/㎡ |
| Contrast ratio | 4000:1 |
| Touch Screen | Optional |
| Life expectance | 60,000 hours |
2). Other properties
| | |
| --- | --- |
| Display color | 16.7M |
| Visual angle | 178°/178° |
| Response time | 6ms |
| Backlight Type | WLED |
| Power supply | AC100~240V 50/60HZ |
| Power consumption | 1200W |
| Pixel Pitch(mm) | 0.4845(H)×0.4845(V) |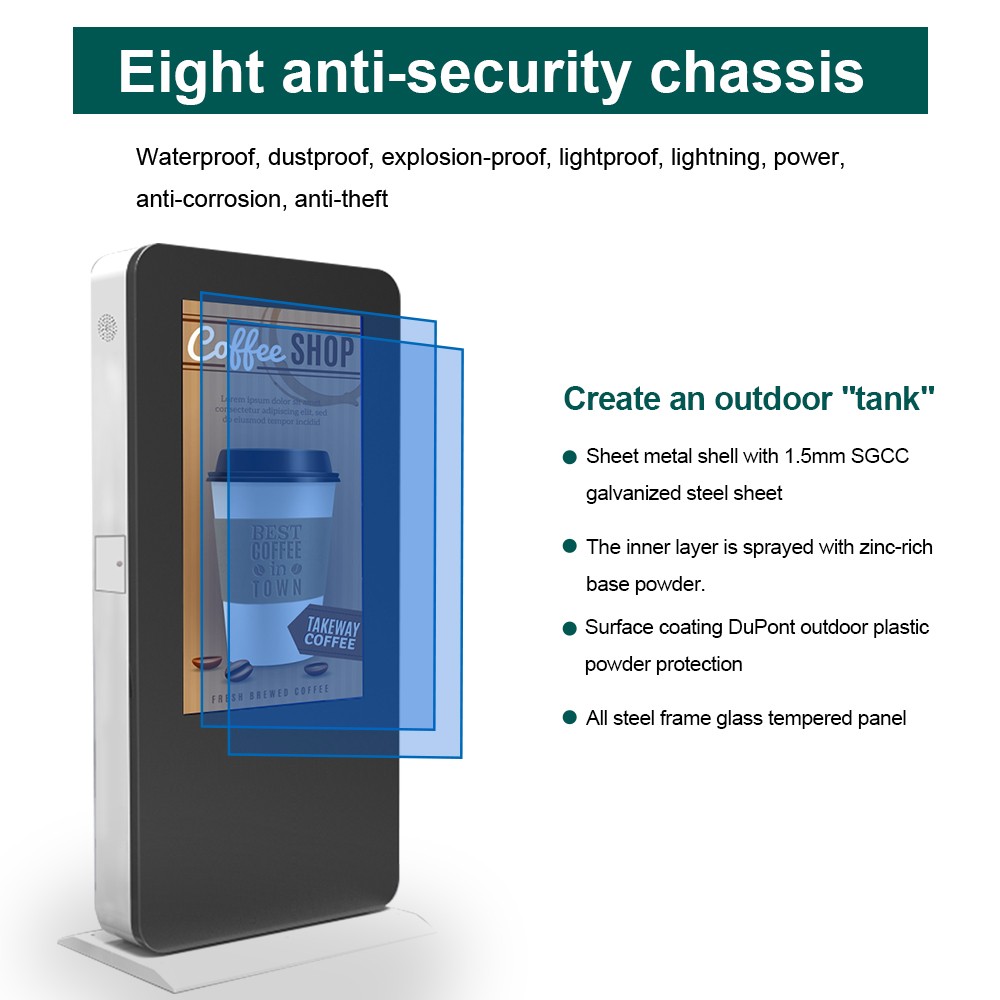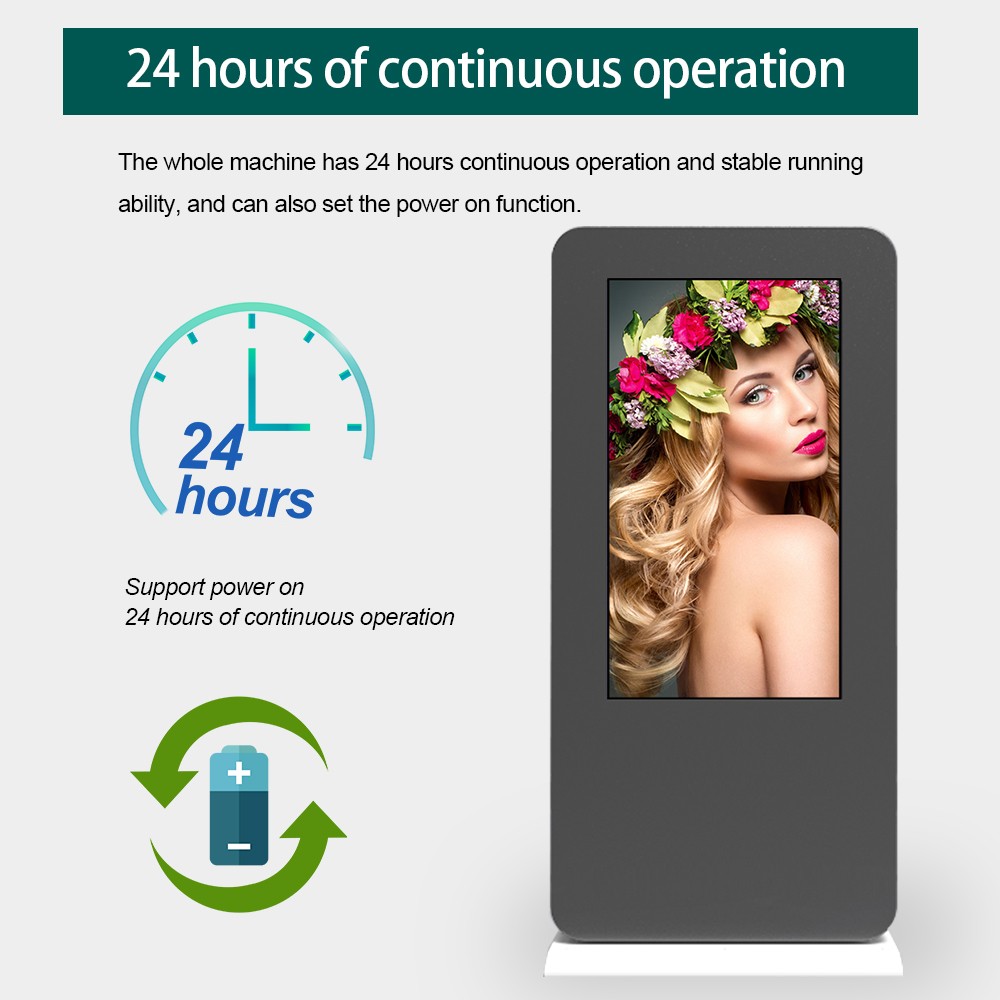 FAQ
1. Q: Where can Outdoor Digital Signage be used?
A: Various types of electronic signs are used every day outdoors and indoors, such as traffic systems, bus stops, hospitals, museums, exhibition halls, company meeting rooms, stores, hotels, restaurants, etc.
2.Q: What are the size specifications of the Outdoor Digital Signage?
A: There are a large number of sizes available to support customization, 32 inch-98 inch is no problem
3. Q: Can the Outdoor Digital Signage have a separate operating system?
A: The Outdoor Digital Signage comes with a customized operating system, you can choose your preferred operating system from Windows, Android. This way, you will provide your customers with an enjoyable user experience based on their interests.
4. Q: What are the style types of Digital Signage?
A: a: Indoor standard/touch screen model
b: Outdoor standard/touch screen
c: Semi-outdoor standard
d: Double-sided standard/touch screen model
e: Slim double screen standard model
5.Q: Does the Outdoor Digital Signage also support external storage?
A: Yes, you can insert external memory via USB, HDD and SSD.